In an age of constant accelerations, leading organizations must send scouting parties to explore the new frontiers of leadership.
Exponential growth and technologies such as virtual reality, artificial intelligence, robotics, digital medicine, and nanotechnology are poised to disrupt every major industry within the next 3-5 years.
How will our key industries prepare for this massive change?
"Signals Expeditions" is two-day workshop during which education, corporate, technology and design leaders meet.
Together, they dive deep into emerging technologies and prototype solutions for key challenges within their organizations.
Our topics of work and exploration:
How will we co-create with AI?
How will we foster empathy?
How will the definition of leadership evolve in the exponential age?
How will we find purpose and meaning in the age of virtuality and automation?
Which new rituals will be created? Which of the currents ones will be replaced?
How will we design for balance between automation and the human elements?
How can we reduce internal friction when working with innovation?
How will we design for trust?
Some of the organizations who participated in 2016 and 2017:
The City of Los Angeles, Facebook, Siemens Health, PricewaterhouseCoopers, Vans, UCLA, X-Prize, littleBits, University of Pennsylvania, and others.
After the learning journeys, the participants walked away with 4 product prototypes that they created during the sessions.
"This was a carefully choreographed expedition into the future of immersive experiences that successfully alternated discovery, play, and brainstorming around the affordances that Virtual, Mixed, and Augmented reality technologies present us with. I've taken part in several similar events just in the last year and this one was by far one of the most inspiring ones."
— Past participant, Head of Innovation at VF Corporation / Vans
"We were presented a fascinating blend of theory, design thinking, and hands-on experiences with leading VR technologies in this well-produced experience. I was very delighted to participate, learn, and create with such an interesting group of thinkers and creators."
— Past participant | Director of Educational Futures, UCLA
After several requests from our Signals Expeditions participants, we created Signals Beacon -- an online publication with curated news about exponential technologies and why it matters to the future of work, learning, health, and creation.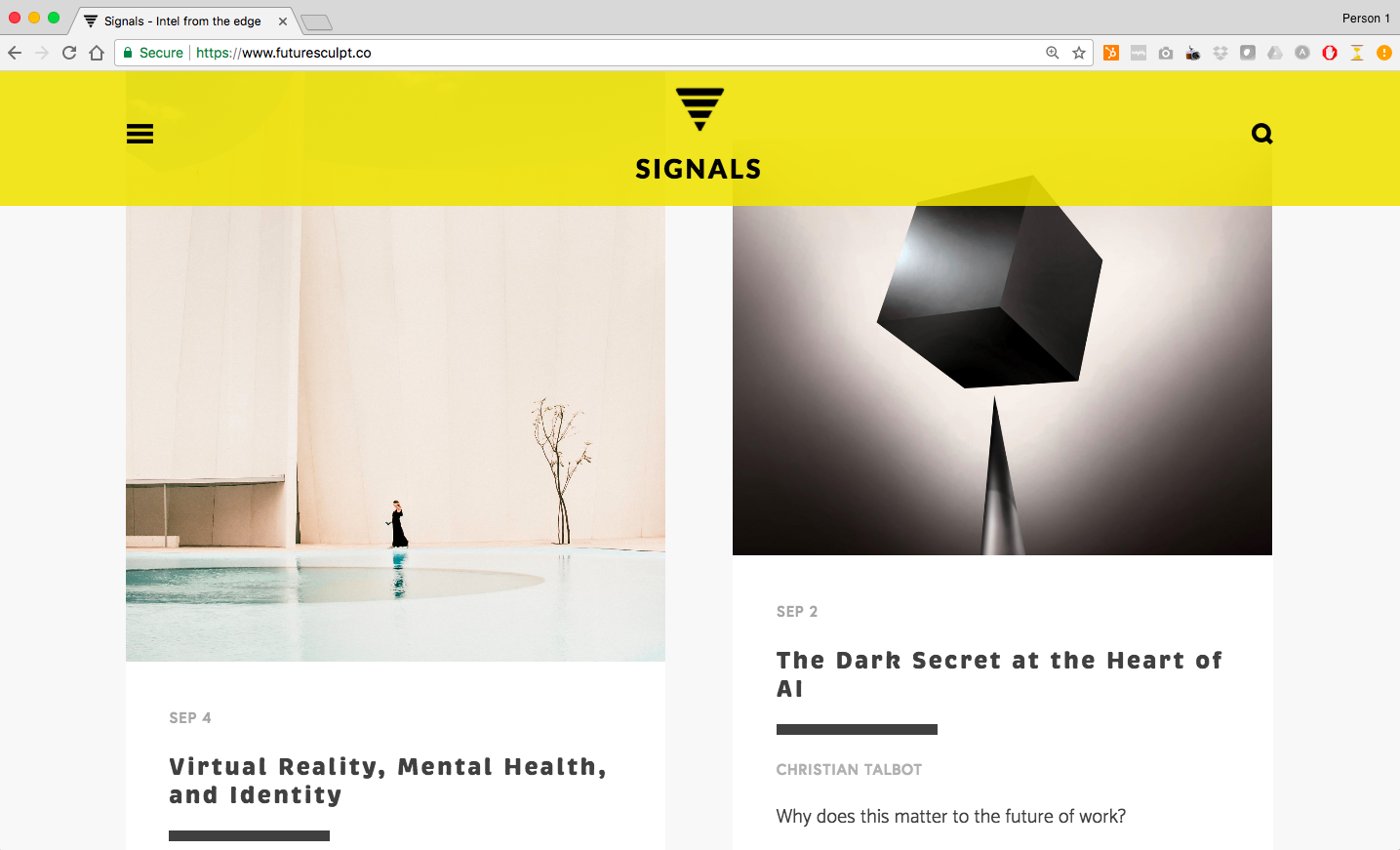 My roles: project direction and co-design of programming / partnership design / marketing / co-facilitation of workshops